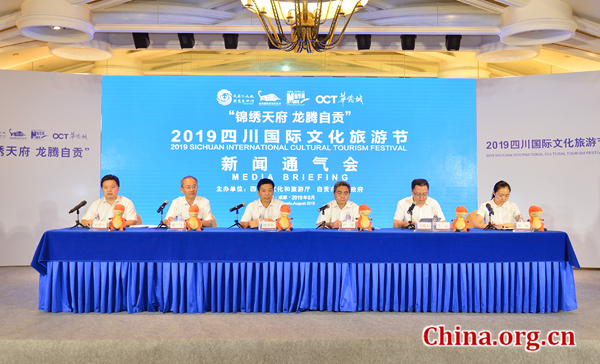 The 2019 Sichuan International Cultural Tourism Festival will be held in Zigong City, Sichuan Province, from September 10 to October 7, according to a news briefing held in Chengdu City, Sichuan Province, on August 23. The Second Zigong International Dinosaur Lights Festival will also be held during the same period.

Jointly held by the Sichuan Provincial Department of Culture and Tourism and the Zigong Municipal People's Government, the festival will feature the region's unique salt culture, dinosaur history, lantern show and distinctive food in Zigong City. It will also include activities like the opening ceremony, the Sichuan International Cultural Tourism Investment Fair, the Third Sichuan Tourism New Media Marketing Conference, a fireworks show, sightseeing on the Fuxi River and the Second Zigong Tourism Commodity Expo. There will also be a tour for visitors to explore the Jurassic Period, a beer festival, a dinosaur-themed lantern show, arts performances, a square-dancing competition, a grape-picking festival and many other activities.

During the Third Sichuan Tourism New Media Marketing Conference, ten distinctive tourism brands in Sichuan Province will be announced and given awards after an online selection activity. The Dinosaur Cultural Tourism Industry Alliance will also be established at the conference. In addition, the trailer of the 3D animation film "Space-time Dinosaur Knight", which features dinosaurs in Zigong, will be released at the same time.

"The event is expected to promote tourism, deepen cooperation in the tourism industry, and create "all-season" tourism in Zigong," said Yang Zhiyan, member of the Standing Committee of the CPC Zigong Municipal Committee and vice-mayor of Zigong, during the news briefing.