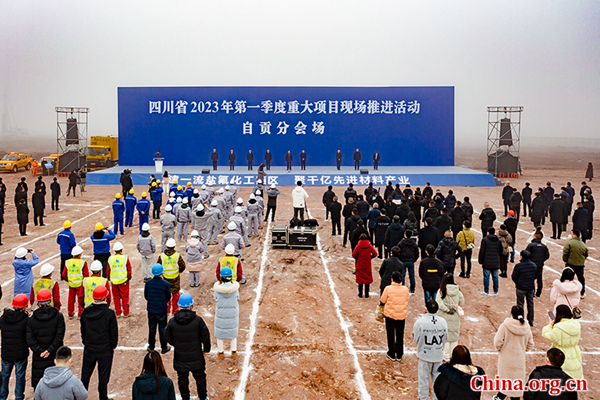 A total of 104 projects with an investment of 37.5 billion yuan will start construction in the first quarter of 2023 in Zigong city, Sichuan province, according to a project launching ceremony held on Jan. 3.

Among the projects, 54 involve industrial development such as new energy conductive material production, drone assembling and spare parts manufacturing, and construction of a cold-chain intelligent logistics port. There are also 25 new infrastructure projects covering road construction and renovation in Rong county and the Zigong High-tech Area. Meanwhile, 24 projects, including a sewage treatment plant in the high-tech area and a public health emergency system in Gongjing district, will improve people's livelihoods and social undertakings.

As the representative project of this quarter, the Zigong Guotai Huarong Electrolyte Production and Solvent Recovery Project, with an investment of 1.5 billion yuan, will include the construction of 70,000 square meters of workshops and warehouses, 16,000 square meters of office buildings, 24 electrolyte production lines, and three solvent recovery lines, among others. The project is expected to realize an annual output value of 13.8 billion yuan and create 850 job opportunities after its completion.